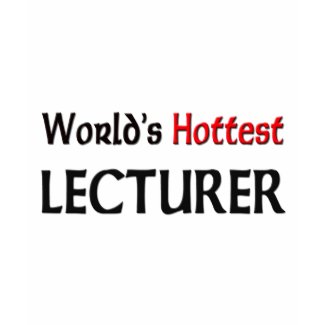 Worlds Hottest Lecturer
by
tshirtshirts
See other
Lecturer T-Shirts
Carl Sagan said "Knowing a great deal is not the same as being smart"
and Terence Kealey, of Vice Chancellor of the University of seems to be living proof.
He claims that
Female Students
are a perk of male lecturers job!
What an outrageous thing to say. Notwithstanding the fact that we are all adults and we know all about the birds and the bees. A university is a professional learning environment, where students are 'learners' not targets of lustful attention.
He has clearly had a humour bypass, and has been entirely gullible in regard to the impact of his 'laddish' statements. This has entitled him to a free entry in my
Jackasses
Squidoo lens. You can vote for him in the Jackasses roll of fame now!
He wrote:
"Normal girls - more interested in abs than in labs, more interested in pecs than specs, more interested in triceps than tripos - will abjure their lecturers for the company of their peers, but nonetheless, most male lecturers know that, most years, there will be a girl in class who flashes her admiration and who asks for advice on her essays. What to do?

"Enjoy her! She's a perk."
The damage this type of utterance can have to the student / lecturer trust is immense. Does the student now think they have achieved the grade through academic achievement or through personal appearance? What will future employers think? Might they begin to think 'is she really qualified?'
How do male lecturers behave now? Will any sort of familiarity be construed as a 'come on'? Might they over-compensate and mark more harshly to avoid accusations of 'babe-ism'? Will any glance at a female student lead them vulnerable to a raft of accustations?
I think Doctor Lurve should step down.
Much has been researched in this area
Physical Attractiveness and academic performance
Sexual harassement on a university campus
Expectations, Impressions, and Judgments of Physically Attractive Students
Interested in become a student at a British University? check out...
Choosing A British University